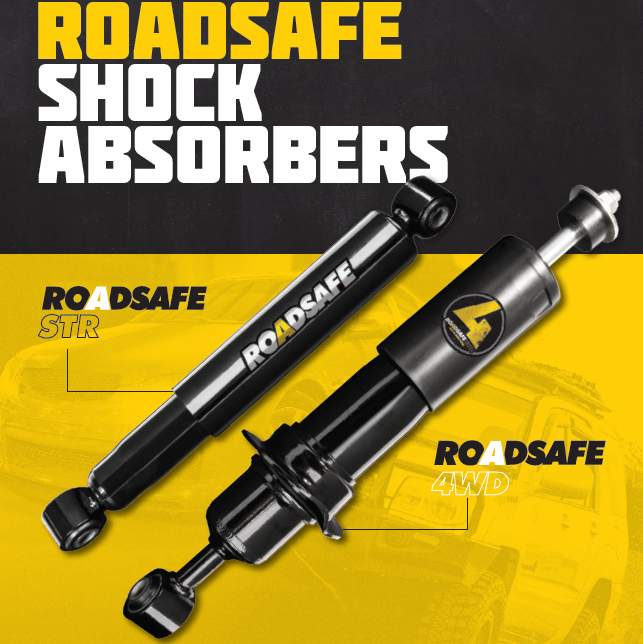 ROADSAFE have been specialising in bringing
quality, trusted steering and suspension parts to the
Australian automotive market for over 40 years.
With the same passion and expertise, ROADSAFE
introduces a new high quality competitively priced
shock absorber range that you can trust.

HIGH PERFORMANCE SHOCKABSORBERS FOR 4WD'S & OFF ROAD DRIVING
Tried and tested locally for Australian conditions - Built for Aussie Terrain
Backed by a comprehensive 3 year / 100,000 kilometre warranty
Direct OE replacement ensures a guaranteed fit
Precisely tuned valving delivers improved comfort and control
FEATURES
HIGH QUALITY RUBBER BUSHINGS Reduces noise, vibrations and harshness. Ensures stable mounting.
THEY'RE BIG Featuring greater surface area for heat dissipation and excellent dampening control properties.
EXTREME BIG BORE Greater oil capacity improves temperature control during extreme operation.
HEAVY DUTY MOUNTING POINTS Double welded for increased stability and strength.
FOAM CELL TECHNOLOGY Reduces cavitation and aeration, delivering a smooth enjoyable ride.
HIGH QUALITY UPPER SHAFT SEAL Designed to handle the demands of rugged terrain.
PISTON ROD GUIDE Larger surface supports increased side load and greater impacts.
LARGE DIAMETER, HIGH QUALITY CHROME FINISHED SHAFT WITH INTERNAL ROD STOP Hard chrome finish eliminates wear and resistant to chipping. Allowing for smooth sealing operation with minimal drag.
SEAMLESS PRESSURE TUBE Precisely cylindrical and smooth with high burst pressures, resulting in consistent performance and reliability.