Description
!!! FREE POSTAGE !!!
NOTE : All of our DT79A Thermostats now include the foot valve spaced ready to fit straight into your TD42. 
These thermostats are longer in the body than standard and block the bypass therefore allowing no hot water to circulate until thermostat opens, they have been proven to make a substantial difference in the TD42 engines, especially ones that have the "kettle" heating issue.
Suits all Patrol 4.2L Diesel Engines,GQ TD42, GU TD42T & GU TD42Ti
This kit includes the Thermostat and a Genuine Nissan Thermostat Gasket. 
We run this thermostat ourselves and recommend them as do many other knowledgeable people in the industry specialising in TD42's.
SPECS
Flange diameter: 54mm
Height: 62mm
Flange to base: 40mm
Vent valve: 29mm
Celsius: 82°C
Fahrenheit: 180°F
Dayco thermostats are designed to OEM specifications and come with a heat sensing wax filled copper power pill that detects the coolant temperature in the engine. The Dayco thermostat's amazing heat sensing power pill controls coolant flow from the radiator when the engine is cold to reach optimum operating temperature quickly. It then allows coolant to circulate through the engine when operating temperature is reached to create the perfect temperature controlled engine environment.
Customer Reviews
Write a Review
Ask a Question
13/01/2022
Jeffrey M.

Australia
Thermostat 1992 Ford Maverick TD42 (aka GQ Patrol)
Fitted fine and is working a treat. Temp now rises and sits at half / slightly under half when thermostat opens. Much improved thermostat for this car as when opens I believe all water is directed through radiator rather than the old which left a small amount still just circulating through motor. When this new one is closed it then allows just a slight circulation through motor. My old thermostat was not closing all the way and I suspect not opening far enough either when hot. My old radiator was shot as well. Hopefully my overheating woes are now over.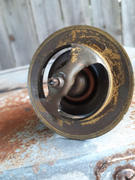 21/10/2021
adrian W.

Australia
Hoses, thermostat
Easy to fit. Good quality products
06/10/2020
Dillon H.

Australia
EXCELLENT EXPERIENCE!! HIGHLY RECOMMEND!!
EXCELLENT SERVICE!!! FAST DELIVERY!!! WELL PRICED!!! AMAZING EXPERIENCE!! A ++++++
First rate service, arrived on
First rate service, arrived on time exactly as stated. No complaints here.