Description
!!! FREE FREIGHT !!!
1kz-te owners your day has come, you can put your mind at rest as we have released a 1kz-te Fan Setup that will out perform any fan setup you have used before. 
Finally a Hilux KZN165 1kz-te cooling fan solution. This IS the ultimate in keeping your 1kz-te cool, designed and tested here in Australia using only the highest quality parts.
If you want to keep your 1kz cool, look no further, perfect for these long hill climbs, or when towing your camper/caravan.
Suits ALL 1kz-te Engines KZN165 Hilux.
This fan and hub is much larger than the Toyota fan and out performs all of the Toyota units by up to and over 10 deg (based on averages after testing on many vehicles with varying fan/hub configurations.
The adaptor has been designed and engineered from the ground up with a true centre spigot to keep it all perfectly lined up and spinning true. 
The fan is a Genuine Mitsubishi Fan, NOT an Aftermarket cheap quality unit that will over flex and hit your shroud or radiator. (yes we could give you a cheap fan, but we don't want to take this risk, do you?)
The Viscous Hub is the Highest quality Aftermarket unit, manufactured by a company with over 45 locations in almost 20 countries, so rest assured your getting a quality product,  again - this is no cheap Chinese product.
Forget adding oil to your current setup, that only makes the fan engage all the time, it drags power away from the engine and still doesn't help anywhere near enough. Trust us, we have tried. :) With this setup you can really hear when the fan engages and disengages so you know its working well.
NOTE: NOTE: This will only work with a stock size radiator, from our testing your far better off using a stock size radiator as the recovery time on the larger capacity radiators is much much slower.
Customer Reviews
Write a Review
Ask a Question
Filter Reviews:
delivery
Temps
upgrade
performance
Quikazz
air flow
hell
Australia Post
motor
radiator
Clutch fan assembly
So I install this kit on a 1996 granvia. It's stays cooler but the only downside is the noise at high speed and high rpm. But since it dose run cooler I can live with the noise.
12/05/2022
Brad M.

Australia
Qikazz fan
Hands down best upgrade I've put on my hilux temp sits on 71degrees no matter what, easy to install , very happy with purchase.
02/03/2022
Mekka E.

Australia
Outstanding Product!!
Great customer service sold the fan for me. Yeah it was pricey but the quality is unreal. Cake walk to install, takes about 30mins if you're handy on the tools Idle temps dropped 20degrees C which is unreal. And towing a 5M boat with aircon pumping up a hill, water temp peaked at 78degC (used ti climb up to 100) Unreal service, unreal product, I'm kickin myself it took me a year to buy it!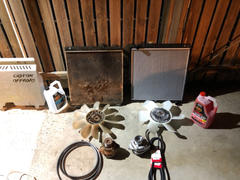 28/02/2022
Luke C.

Australia
Good initial impression
The 1kz fan upgrade fitted without issue and appears (sounds) to be outperforming the standard fan, albeit 20 years yonger. Not sure if the Qikazz is a serviceable unit for adding viscous oil in the future if it gets dull. Would also like to see an exploded CAD/SOLIDWORKS drawing of the internals for interests sake. But so far its a solid unit.
11/02/2022
Brady A.

Australia
Quick and Painless
I took it for my first test drive after installing a brand new radiator and this fan. Wow did it impress me. Temps barely moved at all going up the steepest mountain in my area and pulling 110 on the highway with my 33inch tyres that usually make my motor a heat sink. Great product and quick delivery.