Description
!!! FREE FREIGHT !!!
1hz owners your day has come, you can put your mind at rest as we have released a 1hz Fan Setup that will out perform any fan setup you have used before. 
Finally a LandCruiser 75 / 78 / 79 / 80 / 100 / 105 1hz cooling fan solution. This IS the ultimate in keeping your 1hz cool, designed and tested here in Australia using only the highest quality parts.
If you want to keep your 1hz cool, look no further, perfect for these long hill climbs, or when towing your camper/caravan.
Suits ALL 1hz Engines fitted to LandCruiser 75 / 78 / 79 / 80 / 100 / 105.
This fan and hub is much larger than the Toyota fan and out performs all of the Toyota units by up to and over 10 deg (based on averages after testing on many vehicles with varying fan/hub configurations.
The adaptor has been designed and engineered from the ground up with a true centre spigot to keep it all perfectly lined up and spinning true. 
The fan is a Genuine Mitsubishi Fan, NOT an Aftermarket cheap quality unit that will over flex and hit your shroud or radiator. (yes we could give you a cheap fan, but we don't want to take this risk, do you?)
The Viscous Hub is the Highest quality Aftermarket unit, manufactured by a company with over 45 locations in almost 20 countries, so rest assured your getting a quality product,  again - this is no cheap Chinese product.
Forget adding oil to your current setup, that only makes the fan engage all the time, it drags power away from the engine and still doesn't help anywhere near enough. Trust us, we have tried. :) With this setup you can really hear when the fan engages and disengages so you know its working well.
NOTE: The 1hz Setup has ample of clearance to run a larger size radiator with our fan kits, however from our testing your far better off using a stock size radiator as the recovery time on the larger capacity radiators is much much slower.
Customer Reviews
Write a Review
Ask a Question
Filter Reviews:
difference
water temps
reduction
temp guage
5stars
amount
coolant
Toyota
money
treat
25/12/2021
Andrew C.

Australia
Overheating
I've had an overheating gremlin for 4years when towing on warm days, have replaced radiator, thermostat, all hoses, water pump, flushed, etc etc. I've used an aftermarket cheap viscous coupling, a dayco unit then an expensive genuine one all having varying results but not fixing the problem unless they got over filled with oil.. Finally I found this setup, pretty simple to install and test results have shown I can now do absolutely anything to it and the gauge won't move! Absolutely 10/10 product guys well done, saved me a motor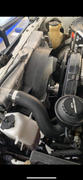 05/11/2021
Reece M.

Australia
Worth every penny
I installed this about a week ago, and must say it's money we'll spent! Has dropped my water temps quite can definitely tell the difference
03/11/2021
John F.

Australia
It fits. It works.
It fits. It works. 5 to 10deg reduction on temp guage. Still getting used to it being a bit louder.
29/10/2021
Reginald m.

Australia
Qikazz cooling fan and hub
using this fan & hub i found little difference between this and genuine Toyota fan & hub but 5stars to the company for there service and delivery
25/10/2021
Aaron N.

Australia
Awesome product
This fan and hub is awesome. Has kept my coolant temps down another 4-5 degrees with the amount of air it flows.